April showers bring May flowers?
We only hope the bloody showers of March and April will eventually end with the sweet scent of liberty. Unfortunately, recent events still showcase how violent the situation in Syria is.
MORE DEATH, DERAA STILL A WAR ZONE
Since this Friday, it seems around 50-100 more lives have been taken. UN puts total deaths around 450, but others report around 700 now as well as over 2,000 wounded and thousands detained.
Deraa is still like a war zone. Still surrounded, power/communication/water still disrupted. Tanks still surround the city and men are still being detained. Women and children have taken to the rooftops chanting
'God is Greater.' Reuters
WOMEN RISE
In Salhyia, a district of Damascus, 11 women have been arrested by security forces. These brave women were marching in a silent all women protest in support of the residents of Deraa.

"About 50 women managed to briefly raise signs that said "Break the Deraa siege" and "No to the killings" before they were confronted by security forces." Reuters
FLEEING TO TURKEY
Over 200 have fled to the Turkish border in an attempt to escape the ongoing violent situation.

"About 250 people raced across the Syrian border into Turkey, government officials said Saturday, a flight that reflects the fear and violence gripping the Arab nation.

The people hustled to the southern Turkish Yaylidagi district in Hatay province on Friday afternoon, according to local and federal government officials.

Turkish Foreign Ministry spokesman Selcuk Unal said the government is trying to determine more about the people and how and why they chose to leave Syria."CNN
SUPPORT ACROSS THE U.S. and WORLD
There has been ongoing support across the globe.

Syrians in Moscow take part in a rally holding pictures of victims:
New York: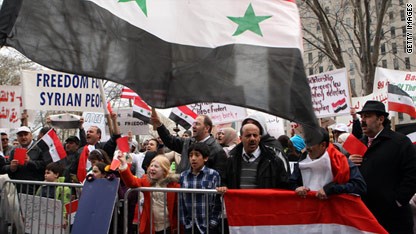 Chicago: